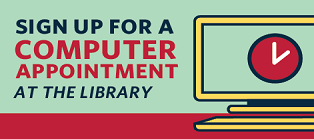 Library Computer Services --update
While the COVID-19 virus remains a public health hazard, computer use at Harvard Diggins Library will be by appointment only.  Please note the following :
– Public computers may be used for up to one hour per day by appointment only.
– Only one person per computer will be allowed.
– All public computer users will receive a guest pass when checking in at their appointed time.
– Staff will assign a computer station to each user.
– At the end of the session, please return the guest pass to the circulation desk.
To make an appointment for computer use, please contact the library at 815-943-4671. Please wear your mask when you arrive at the library and use hand sanitizer before you use the computer. Please contact us if you have any questions or would like to make an appointment.
New procedures for keeping us all safe
Because the COVID-19 virus remains a public health hazard, some new procedures and new building hours will be on an orange flyer as you enter the library. Please take one of these flyers or click on it here  to read it in English or here to read it in Spanish and review it before you begin your library visit.  Wearing masks, social distancing, and use of hand sanitizer as you enter and leave the building are required.
The library's current building hours are as follows:
Monday – Friday 9:00 a.m. to 10:00 a.m.  Reserved for patrons age 60+ and those with at-risk health conditions
Monday – Thursday 10:00 a.m. to 6:00 p.m.
Friday 9:00 a.m to 5:00 p.m.
Saturday 9:00 a.m. to 1:00 p.m.
We welcome everyone back to the library and thank you for following these guidelines!
COVID-19 Contact Tracing Alert from McHenry County
All of you since March have risen up to the many challenges that the COVID-19 pandemic has presented us, at work and at home.
There's one more way you can help slow the spread of COVID-19, and that's to cooperate if you get a call from a contact tracer.
·         If you get a call from 312-777-1999 with the words "IL COVID HELP" on the caller ID, it's not a scam. The person is a public health professional who is calling either to let you know that you've come in close contact with someone who has tested positive for COVID-19, or to follow up with you after you've tested positive.
·         If you tested positive, the tracer will ask questions to determine who you've been in close contact with, so that they can be informed. The tracer WILL NOT give these people your name, or any other information that could identify you.
·         In fact, all information that you share with a contact tracer is strictly confidential.
In short, don't hang up if you receive one of these calls. Please answer it, or if you miss it, call back.
For more information, you can get the facts about contact tracing on the McHenry County Department of Health's new tracing webpage at http://bit.ly/MCDHCovidSupport.