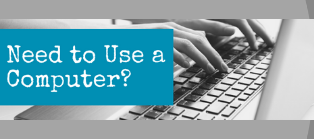 Library Computer Services --walk-in service resumes
While the COVID-19 virus remains a public health hazard, please note the following :
– Public computers may be used for up to one hour per day —NO APPOINTMENT NECESSARY.
– Library card holders may log in with their library card number and PIN.
– If you don't have a library card stop at the circulation desk to get an up to 1 hour guest pass.
– Please let circulation staff know when you are finished using the computer so it can be sanitized for the next user.
Please wear your mask when you arrive at the library and use hand sanitizer before you use the computer. Please contact us if you have any questions at 815-943-4671.
New procedures for keeping us all safe
Because the COVID-19 virus remains a public health hazard, some new procedures and new building hours are in effect.  Wearing masks, social distancing, and use of hand sanitizer as you enter and leave the building are required.
The library's current building hours are as follows:
Monday – Thursday 9:00 a.m. to 6:00 p.m.
Friday 9:00 a.m to 5:00 p.m.
Saturday 9:00 a.m. to 1:00 p.m.
We welcome everyone back to the library and thank you for following these guidelines!
Download the App!
Take PrairieCat everywhere you go!
-Search the library catalog and reserve or renew items
-Add one or more library accounts to your device
-Manage holds and check-outs
-View and register for events at the library
-See information about hours, locations, and services offered
-Access online learning resources
-Self-Checkout feature
Search PrairieCat mobile in the App Store or PrairieCat in Google Play to download and use this convenient new option.